Summer 2018

Tool & Equipment Buyer's Guide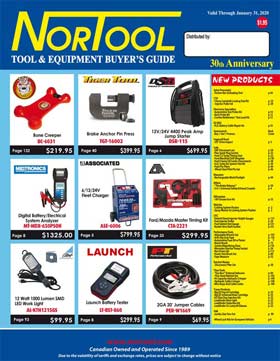 Download PDF of our Catalog to your desktop!
Featuring: Primelite Floodlights, Launch Code Reader / Resetter, Millenium 40 Code Reader, Millenium HD Pro, Torque Scan Tool, 9 Circle Oil Funnel System 2015 and up VW/Audi, VW Nylon Drain Plug and Tool Set, Channellock Adjustable Wrench, Chicago Pneumatic CP Angle Drill, DSR OBD II Memory Saver Detector, Gearwrench 120XP Ratchet Set, 3/4" Drive Quick Release Ratchet, Lincoln Used OIl Drain, Milton plugs and couplers, OTC 1 Ton Motor-Rotor Stand, OTC Truck Clutch Adjustment Set, Wilmar Performance Tool 3" Bench Grinder with Rotary Tool, CV Joint Removal Tool, Inner Tie Rod Tool, Inspection Camera, VW/Audi/Porsche Bit Set, Pro-Lite Retrofit Lite, Robinair Premium Leak Detector R134a / 1234YF, Storm Refractometer, Tire Tread Depth Gague, Sunex Hose Gripping Plier Set, Sunex Long Needle Nose Plier Set, Tiger Tool Severe HD Bearing Cup Extractor and Installer, Tiger Tool Servere HD U-Joint Puller and Service Kit, Titan Extra Long Ratchets, Hex Bit Sets, Impact Adapter Set, Slim Breakaway Knife, Solar Power Auto Dark Welding Helmet, Torsion Impact Bit Set, Torx Bit Set, Universal Joint Impact Socket Set, OTC Hydraulic Flow Meter 50GPM, Mozlrater Diesel Injector Nozzle Tester, Hendrickson Suspension Bushing Tool Kit with Air / Hydraulic Pump, Diesel Nozzle Tester Adapter Set, Digital Hydraulic Flow Test kit 100 GPM, Cargo Nets and Much More!
Welcome to the Nortool family.
Nortool, a leading Canadian Tool and Equipment wholesale distributor, serving the Automotive, Industrial and Heavy Duty markets Coast to Coast.
As Third Generation Tool and Equipment Professionals, we are proud of our record of prompt personalized service, technical know-how and large selection of professional quality tools and equipment.
We look forward to servicing all your Tool and Equipment needs.
Auto-Force is a division of Nortool Inc.

Contact us:

Tel: 416-667-1083

Email: Sales@Nortool.com

438 Limestone Crescent
Toronto, Ontario,
M3J 2S4