Fall 2019

Tool & Equipment Buyer's Guide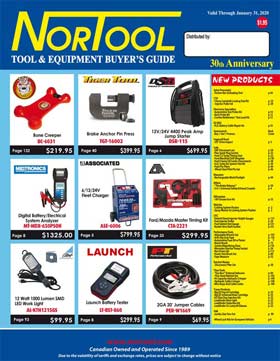 Download PDF of our Catalog to your desktop!
Featuring Astro Pneumatic Torsion Bar Unloading Tool, CTA Chevy Camshaft Locking Tool Kit and Injector Puller kit, Electronic Specialties Automotive Test Probe Kit, Back Probe Kit, Combo Multimeter / Test Lead Kit, EZ-RED H.D. Battery Cable Repair kit, Gearwrench Buy 1 Get 1 Promos, Ingersoll Rand 3/8" Drive Impact, Lisle DEF Disconnect set, Flex Spark Plug Socket, Ford 3.5 Turbo Timing Tool, Ford Manifold Drill Template, Ford Tranny Oil Cooler Disconnects, H.D. Turbo Air System Test Kit, Push Pin Pliers, Wheel Stud Pilot Pin Set, Maxxeon Rechargeable Work/Penlight, Milton The Brake Releaser, 5 in 1 Universal Safety Exhaust Coupler, Milwaukee 18V Grease Gun Kit, MityVac, Cooling System Flusher, Spray Washer & Cooling System Flusher, OTC Detroit Diesel Injector Height Gauges, Fuel Injector Puller, Fuel System Test Gauge, Rocker Arm Shaft Socket, Wilmar Performance Tools Adjustable Wrench Set, Anti-Slip Grip Tape, Automotive Fuse Kit w/Tester, Bench Brush, Jumbo Magnifying Glass, Mercedes Injector Pump Socket, Nut Driver Set, Power Tool Brush Set, Tape Measure, Ratchet Master, Disconnect Plier Set, Titan Tools Exo Burr External Deburrer, Flex-Head Ratchet Set, Hi-Capacity Hydraulic Crimper, Hydraulic Cable Crimper, Wire Rope And Cable Cutter, Tracer Products, Big EZ Pag oil Cartridge, Big EZ Universal/Ester Cartridge, EZ-Shot Dye Injection Kit, Leaknder Blue Light, Leaknder Detection Kit, Leaknder Uv Lamp W/Glasses, VIM Jumbo Size Torx Set, Wheel Lock Kits - factory duplicate / reproduced sets for Audi VW 5 Series, Porsche, BMW 2nd Generation and Mercedes.
Welcome to the Nortool family.
Nortool, a leading Canadian Tool and Equipment wholesale distributor, serving the Automotive, Industrial and Heavy Duty markets Coast to Coast.
As Third Generation Tool and Equipment Professionals, we are proud of our record of prompt personalized service, technical know-how and large selection of professional quality tools and equipment.
We look forward to servicing all your Tool and Equipment needs.

Contact us:

Tel: 416-667-1083

Email: Sales@Nortool.com

220 Viceroy Road,
Unit 4,
Concord, Ontario,
L4K 3C2